Nothing say love more than Chocolate Dipped Strawberries.  These make a great gift for Valentine's Day, Mother's Day, a birthday, Anniversaries and any special occasion.
With just a little fancying up you can take these up a level or two and make you own gourmet chocolate covered strawberries.  Give it a try, but a few candy cups and a nice box or two and you have a gift fit for a Queen.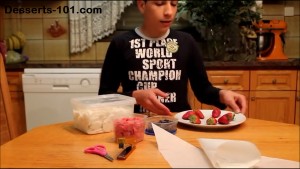 Let's go over the ingredients first.  They are simple and you can make many substitutions and additions to make fabulous treats
Strawberries 

– Choose the desired size you want.  Generally larger ones are more impressive.  To prepare for dipping, wash them well and pat them dry with a paper towel.  Set aside to air dry.  Water is an enemy to chocolate and will cause it to seize up, so take the extra time for the strawberries to air dry.

Chocolate

– for dipping.  You can almost use anything.

I am using chocolate chips today. When heating only apply minimal heat so you don't burn the chocolate.
A coating  chocolate would work great because you do not have to worrying about tempering and they are easy to thin. Also they are available in many different colors.  If you decide to tint your own colors from white chocolate, do not use liquid base colorings, oil base or powdered is best. The liquid food colorings can cause the chocolate to seize up.
Baking chocolate or couverture chocolate.  You can pick up  some very luxurious chocolates here.  These will have to be tempered.  So this is extra work.

Chocolate thinner.

   You can use melted vegetable shortening, some no-taste oils like canola or better yet paramount crystals. Paramount crystals are designed for thinning chocolates.

Decorations

– sanding sugars, non-perils and other type of quins/decorations can be used.

Wax Paper or Parchment Paper

.  To set you strawberries on once they have been dipped.  You can transfer them to glassine or decorative candy cups for your presentation.

Bowl

to melt chocolate in.

Parchment paper cones

  or disposable plastic cones.

Decorative boxes or serving platters.
How to fold a parchment paper cone.
I am planning on using white chocolate and a pink chocolate to add decorations to my strawberries.  Rather than use a disposable bag, I have opted to make a parchment paper bag.  This seems complicated, but in reality it is quite simple.  While I used a stapler in my demos, I recommend you use a piece of tape so it less likely to get fall off and get into the food.
 Chocolate Dipping the Strawberries
First thing I do is melt the chocolate chips in the microwave on 15 second intervals.  I make sure to stir well after every heat and only use a minimal amount of heat.  I also added some oil to thin my chocolate.  Next I dipped my strawberries by holding them stem end, shaking off the extra chocolate then placing on wax paper to set.
I am done dipping the strawberries in chocolate so I melted some white and some pink chocolate coating pieces.  If you need to, think them.  I next filled my parchment paper cones with the melted chocolate.  I used a glass to hold the cone while I poured melted chocolate in.  Folded down the top to seal in the chocolate then I snipped off the point as needed for the desired size of chocolate stream I wanted.
Next we place a strawberry on a sheet of wax paper and drizzle it with melted chocolate.  You can now transfer to another sheet and sprinkle the wet chocolate with sanding sugar, non-perils or some other decorations as desired.  I did several different color combinations.  Make them individual and all different if you wish.  Enjoy
Chocolate Dipped Strawberries Recipe
Watch How to Make Chocolate Dipped Strawberries.