You have seen those pretty cakes covered with fondant.  Sure you can buy colored fondant at the supply store.  Purchasing colored fondant is nice because you get the same color from container to container.  And if you are going to be using come of the more difficult colors to color – the famous reds and blacks – along with any deeply colored fondant you will find that it can take a lot of food coloring to color your fondant.
This technique will work on just about any type of fondant out there.  Purchased or homemade the steps are basically the same.  So lets get started.
How to Color Your Fondant
Let talk about our ingredients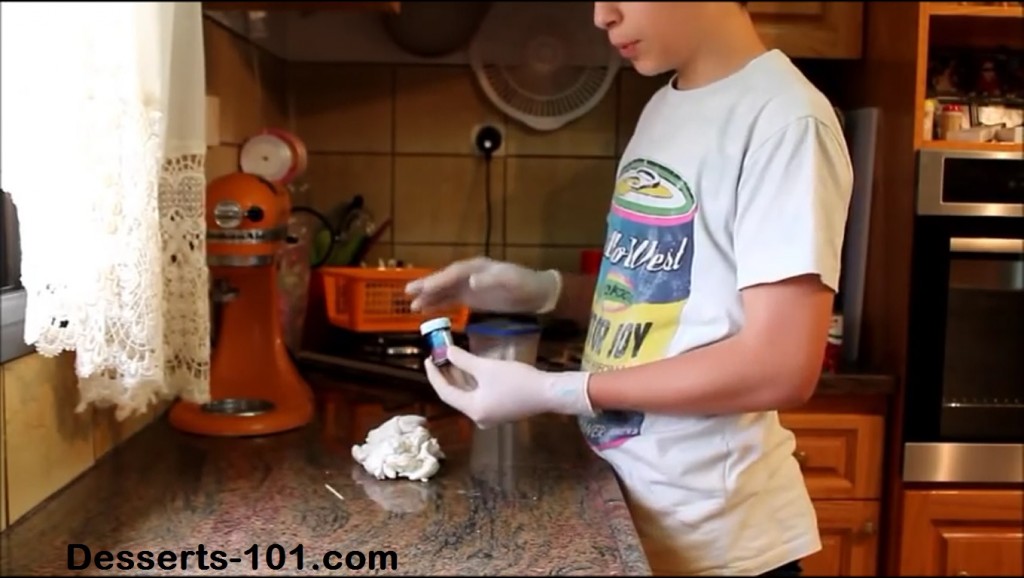 Fondant –  sometimes called rolled fondant or plastic icing or sugarpaste or Ready to Roll ( RTL) depending upon the country you are in. And you can even make your own – there are many marshmallow fondant recipes out there.
Toothpicks – use a clean toothpick every time you dip into a food coloring jar to prevent contaminating your coloring.  If you are using a gel paste coloring in a squeeze bottle you will not need any.
Food Coloring

Paste Colors –  Many home bakers are familiar with the Wilton product line.  They do work good but there are other options out there.
Gel Colors = Ateco, ChefMaster and Americolor are three big brands in the USA.  Available at most bakery supply stores and online they come in various sizes.  Many are in a squeeze battle which you just squeeze onto the fondant then knead it in.
Powdered Food Colors –  I have never used them with fondant, but in a pinch they can be used.  They may dry out your fondant.
Liquid Food Colors – We see these 4 bottle packs at the supermarkets.  They are liquid and are not recommended to color fondant.  You tend to need more coloring and adding high amount of liquid can change the consistency of your fondant.

Surface Prep Substance

Powdered Sugar – good old confectioner's sugar,  icing sugar or 10x sugar.  Using a lot will dry out your fondant.
Solid Vegetable shortening – A light grease can work too.
Fondant Mats – These commericial items can be made out of acetate or a silicone based materials. While they are optional, they will make your life much easier in the end.

Gloves – from a food safety point gloves should be worn since this will not be baked.
Storage Container – Plastic wrap, plastic bags.  If using plastic bags, push all the air out before you seal it up.
I am going to be using powdered sugar to dust my work surface to help prevent sticking.  I am also using a paste coloring so I will be needing toothpicks.
After you add the food coloring it is time to knead and knead and knead.  Tips – if the fondant becomes sticky and starts sticking to your hands/gloves, wash you hands in cold water and put new gloves on.  Also letting the fondant chill in the refrigerator for a few minutes sometimes helps.
When the coloring in thoroughly mixed in, add more as needed and keep knead until you achieve the color you are looking for. Remember reds, blacks and deep shades will require a lot of coloring.  When you are done coloring, remember to wrap your fondant in plastic wrap or place in a plastic bag and get as much air out as possible.  Also store in an air tight container.  Knead before using.
Watch my Video on How to Color Fondant