How to Decorate A Cake With Sprinkles And Buttercream Roses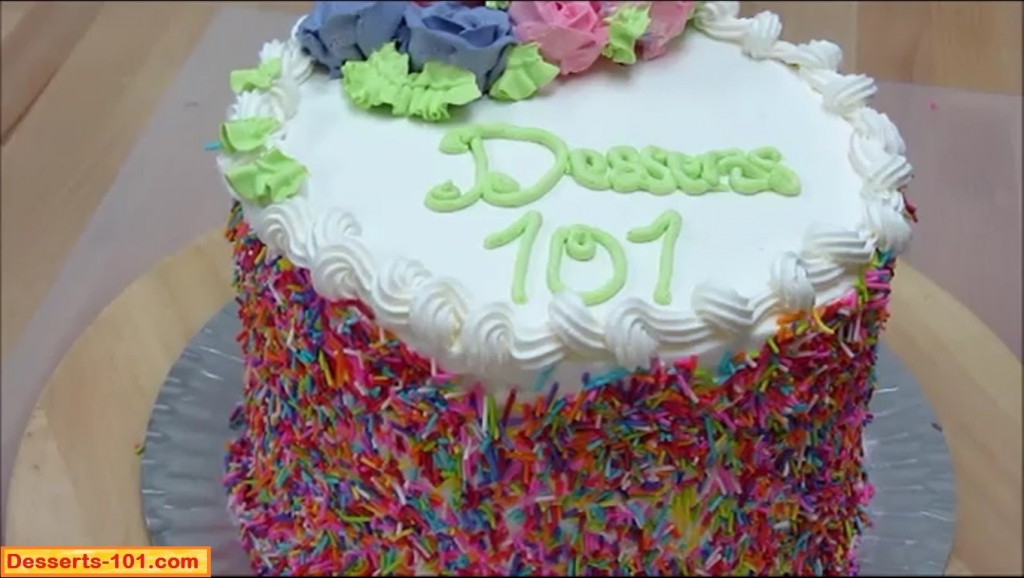 Recipe type:
Cake Assembly
Swiss Meringue Buttercream (from above)
Red Food Coloring
Blue or Purple Food Coloring
1 pound (about 500g)Rainbow Sprinkles (Confetti) (you will have extra leftover, better to have too much)
Pastry Bags
Round Tube (Wilton #3 / Ateco #3)
Closed Star Tip (Wilton #29 / Ateco #29 )
Leaf Tip (Wilton #68 / Ateco #68)
Rose Petal Tip (Wilton #104 / Ateco #104)
Cake Board
Wax/Parchment paper squares (for flowers)
Flower Nail (to make flowers on)
Offset Icing spatula (large)
Offset Icing spatula (small) to place flowers on cake.
Green Food Coloring
Bake cake as per recipe.
Make the Swiss Meringue Buttercream. I like making 1-1/2 recipes which should give me some extra for decorating.
Make your flowers/roses using Wilton #104 / Ateco #104 tip and various colors as desired. Place in the freezer to freeze.
Once the cake has cooled,,apply a dirty/crumb coat and place the cake in the refrigerator/freezer for 15 minutes to set up.
Apply the finishing ice coat.
Apply the sprinkles/confetti to the sides of the cake.
Place the flowers/roses on the top of the cake. NOTE: If you have a desire for there to be stems, pile a Wilton #3 / Ateco #3 stem on the cake first and then place the flowers/roses on top.
Pipe a reverse loop border around the top.
Add leaves using Wilton #68 / Ateco #68 tip and green icing among the flowers/roses and around the outside. Also add some leaves along the top board to make it look prettier.
Pipe an inscription on the cake using Wilton #3 / Ateco #3 tip and green icing.
Cake is ready to be presented. Enjoy
If you do not have the exact tips as me, feel free to use what you have. I am sure it will still look beautiful.
This cake can be stored at room temperature (70 to 75ºF / 20 to 24ºC) for up to a week, but will start drying out after a few days. Store it in a covered container.
The finished cake can be refrigerated, but it should be brought back to room temperature about 15 minutes before cutting.
Recipe by
Desserts-101.com
at /how-to-decorate-a-cake-with-sprinkles-and-buttercream-roses/