Chocolate Strawberry Cake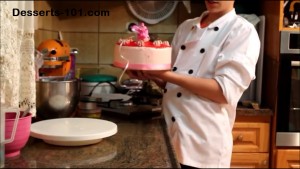 Recipe type:
Chocolate Layer Cake
1 recipe Strawberry Flavored Gelatin Topping for Chocolate Strawberry Cake
1 recipe Simple Syrup Recipe for Chocolate Strawberry Cake
1 recipe Srawberry Flavored Whipped Cream for Chocolate Strawberry Cake
Prepare the Best Secret Chocolate Cake layer per recipe. I made the recipe into 3 thinner layers for this cake. When the layers are cool, wrap and place in the freezer.
Prepare the Strawberry Flavored Gelatin Topping per recipe. Remember you want this thick but not set solid. The gelatin topping can be prepared during the last step of the decorating process while the cake is setting in the freezer.
Prepare the Simple Syrup
Prepare the Strawberry Flavored Whipped Cream. Remember this must be kept refrigerated until ready to use.
Prepare the Swiss Meringue Buttercream per recipe.
Add in the 5 tablespoons of strawberry jam and mix in with the mixer.
Cover with plastic wrap until ready to use. This still be fine at room temperature for 4 days. It will store refrigerated for up to 2 weeks, however it must be brought back to room temperature and it should be paddled on the stand mixer to bring it back to the proper consistency,
Cake Layers - remove the domes as needed. If you only made 2 layers, you will want to cut your layers in half. You will only be using 3 layers so you will have an extra half layer.
Put a small dab of buttercream on the cake board and place bottom layer on the cake board..
Apply simply syrup with a pastry brush.
Add a buttercream dam around the outer edge.
Fill inside the dam with half of the whipped cream.
Add the next layer and repear the simply syrup, butter cream dam and whipped cream.
Add the top layer. this layer show be of the bottom cake layers with the square edge.
Apply simple syrup to this layer.
Smooth any icing that has squeezed out from between the layers and freezer the cake for 15 minutes to allow it to firm up.
Next crumb ice the cake. and freeze again for 15 minutes.
Time for the final ice of the cake. Once smooth, add the gelatin topping, a pick ribbon to the bottom side and butter cream rosettes. Top with a decorative figurine and ribbon.
Enjoy your prized cake.
Note: this cake must be refrigerated because the whipped cream is perishable. Bring to room temperature about 30 minutes before serving.
Recipe by
Desserts-101.com
at https://desserts-101.com/how-to-make-a-chocolate-strawberry-cake-with-sharp-edges/