How To Make The Best Rye Bread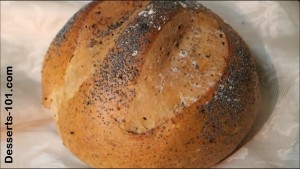 1 cup Warm Water (110 degrees F / 43 degrees C)
1 teaspoon Sugar
2 teaspoons Active Dry Yeast (7 grams or ¼ ounce or 1 package)
250 grams Bread Flour (2 cups or 8.8 ounces)
250 grams Whole Rye Flour (2-1/3 cups or 8.8 ounces)
2 teaspoons Salt
1 Large Egg (50 grams or 2 ounces)
50 grams butter, soft (4 tablespoons)
¼ cup Canola Oil
5 grams Bread Improved (Dough Conditioner)
10 grams fennel flower seeds (2 tablespoons) (or caraway seeds)
1 Large Egg (50 grams or 2 ounces)
1 Tablespoon water
Poppy seeds
Sesame Feeds
Caraway Seeds
Measure out all ingredients
Place water, sugar, yeast and bread improver (if using) in stand mixer. Mix with dough hook on low speed for 3 to 4 minutes; Let yeast mixture sit to proof for 10 minutes, it should become foamy and bubbly.
Add all the flour and salt to the mixing bowl; mix for 1 minute on low speed.
Add canola oil, butter, egg and fennel seeds (if using); Mix on low to combine for 30 seconds.
Let dough knead for 5-7 minutes on low speed.
Remove from container, Check to see if dough needs more kneading by taking a few tablespoons of dough and stretching around the edges. If the dough tears and breaks easily it needs to knead more; if the dough stretches into a thin 'transparent' sheet (this is called the window pane test), the dough is kneaded enough.
Spray or oil a bowl; place dough inside, turn to coat with oil. Cover with plastic wrap and a towel. Place in a warm draft free place for the dough to double in size, about an hour to one-and-one-half hours.
Sprinkle work surface lightly with flour; remove dough from bowl and gently press out excess air. Knead for 15 times. Form into a tight round loaf.
Place dough on a baking sheet lined with parchment paper (or sprinkled with flour or corn meal or even a greased sheet). Brush dough with an egg wash mixture (made by mixing 1 egg with 1 tablespoon water). Using a sharp knife, score the top of the dough in 2 straight lines about ¼ to ⅜ inch deep (1 cm). Sprinkle with poppy seeds or sesame seeds if desired. Cover dough with plastic wrap lightly and a towel and allow to rise until it doubles in size, about 30 minutes. Meanwhile, preheat oven to 350ºF / 177ºC.
Remove plastic wrap and bake in oven at 350ºF / 177ºC for about 40-45 minutes until dough is brown and sounds hollow inside when tapped on the bottom.
Allow to cool before slicing.
Recipe by
Desserts-101.com
at https://desserts-101.com/how-to-make-the-best-rye-bread/