The Best Cheesecake Recipe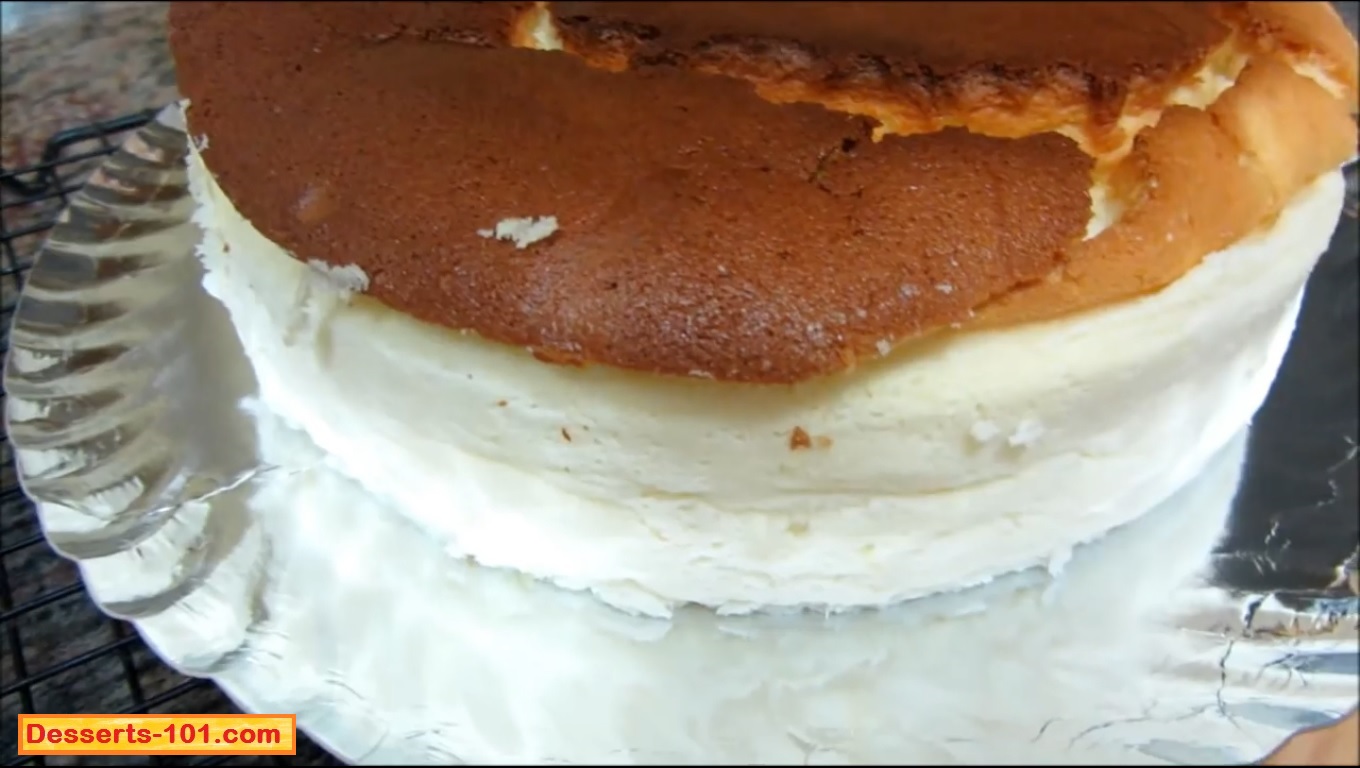 Serves:
one 10-inch (25 cm) x 3-inch (7.5 cm) Cheesecake
1-2/3 pounds (26.5 ounces) Low fat (5-9% fat) spreadable cheese (Quark is one type) (or substitute sour cream) (about 750 Grams)
8 ounce package of Cream Cheese (Philadelphia® brick style) (about 250 grams)
½ cup granulated sugar (100 grams)
2 teaspoon of vanilla extract (10 mL)
6 large egg yolks (84 grams)
½ cup corn starch (also called corn flour) (60 grams)
3 Tablespoon and 1 teaspoon all-purpose flour (50 grams)
1 teaspoon Lemon zest (from 1 Lemon) (optional)
⅔ cup whole fat milk (160 mL)
3 Tablespoon and 1 teaspoon butter, melted (50 grams)
6 large egg whites (210 grams)
½ cup granulated sugar (100 grams)
Prepare baking pan (10-inch x 3-inch (25-cm x 7.5-cm) round cake pan) by greasing well, placing parchment paper liner pm the bottom and the greasing the parchment paper.
Measure out all ingredients. It is very important that all ingredients are at room temperature (65-75°F/18-24°C)
Preheat the oven to 350° F/176°C
In a mixing bowl, add the following room temperature ingredients: soft spreadable cheese (or sour cream); cream cheese; and the sugar. Stir well to combine the ingredients. (I used a hand whisk, but you can use a portable hand mixer or a stand mixer, just take care not to over mix.)
Add in the vanilla extract and egg yolks. Mix in to incorporate.
Add the optional lemon zest if using. Mix to incorporate.
Add the corn starch (corn flour) and the all-purpose flour to a sifter then sift these into the batter bowl. Mix well to incorporate. Set this bowl aside which we make the meringue (egg white) mixture.
To a stand mixer bowl fitted a wire whisk, add the egg whites and start whipping the whites on medium speed. Continue whipping until the whites become foamy/frothy then slowly start adding the granulated sugar in a small stream. Continue whipping until the egg whites have reached the soft to medium peak stage.
To the egg yolk batter portion, add the milk and melted butter. Stir well to mix. At first it will look like it won't mix, but keep mixing and it will mix in very shortly.
Add a third of the egg white meringue to the batter bowl. Gently fold the meringue in to lighten up the batter.
Add the remaining meringue to the batter and fold in to mix well.
Pour the cheesecake batter into a prepared 10-inch (25 cm) cake pan. (Fill you cake pan no more than ⅔ full.) This cake pan should be inside of a larger pan making a water bath possible.
Place the cheesecake in a preheated 350° F/176°C oven. Pour in very hot/boiling water into the larger pan. The water level should go half way up the cake pan. Close the oven door and bale for 10 minutes.
Turn down the temperature to 300°F/145°C and continue to bake for 60 minutes until done.
Remove from oven and allow to cool for 5 -10 minutes before removing from the cheesecake pan and allow the cheesecake to fully cool before decorating or serving.
Serving size:
1/14 Cheesecake (133grams)
Calories:
336
Fat:
23.8 grams
Saturated fat:
14.2 grams
Carbohydrates:
25.7 grams
Sugar:
15.3 grams
Sodium:
142 mg
Protein:
6.4 grams
Cholesterol:
134 mg
Recipe by
Desserts-101.com
at /the-best-cheesecake-recipe/