French Baguettes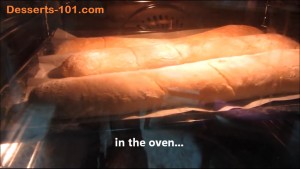 6.5 cups All-Purpose Flour (780g)
4 teaspoons salt (23g)
3 cups Warm Water (110-115ºF/43-46ºC) (710mls) (710g)
2 teaspoons granulated sugar (8g)
3 teaspoons active dry yeast (8 grams or 1 packet or 1 tablespoon)
Measure out the ingredients.
Add the yeast and sugar to the water; stir to dissolve the yeast; set aside to proof 5 to 10minutes,
Add the flour and salt to the mixing bowl. Stir to mix.
With the mixer running on low speed, slowly add the yeast mixture. The dough will appear very wet. Continue to knead for 4 to 5 minutes.
At this point, the dough will be wet and sticky. Transfer to an oiled/greased bowl. Add additional oil on to to coat. Cover with plastic wrap and a towel. Place in a warm draft free place and allow the dough to double in size, about 45 to 90 minutes.
Once the dough has doubled in size, turn it out onto a floured work surface. Fold the dough over on top of itself until it forms a ball. If need be, use a bench scraper to help you out.
Divide the dough into 4 equal portions. This will make 4 baguettes about 17-inches (43 cm) long which will fit on a half sheet pan. Adjust the size to fit your pan.
To form the baguette, take a piece of dough and spread it into a rectangle. Fold the top side to meet the bottom. Seal the seam together by pressing down with the heel of your hand or pressing together with your finger tips. Roll/shape into a baguette. Do not be concerned if the surface is not perfectly smooth, this is the character of a rustic artisan baguette.
Repeat with remaining dough pieces.
Prepare a baking pan by placing a piece of parchment paper and sprinkling it with flour. (If you have a perforated pan, you can eliminate the parchment paper.)
Transfer the baguettes to the prepared pan. Lightly sift some flour on top of the loaves.
Add the characteristic slashes to the loaves using a serrated knife, paring knife or a baker's lame.
Cover the baguettes with a clean tea towel and allow to double in size, about 20 to 30 minutes. Meanwhile preheat the oven to 400ºF/205ºC.
Once doubled, place in preheated oven and bake until golden brown, about 25-35 minutes.
Removed from oven and cool. Baguettes are best stored in a breathable bag (paper bags are great) and not a plastic bag.
Enjoy.