Jello Cheesecake (No Bake)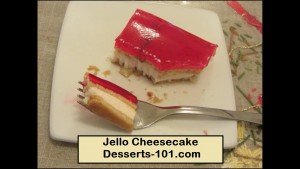 2 pounds Philadelphia Spreadable Cream Cheese (2 packages at 16 ounces each or 3 packages at 12 ounces) (approx 910g to 1000g), room temperature see note 1
1 cup granulated sugar (200g)
1 package vanilla instant pudding (4 serving size)
1 teaspoon Rum extract (5 mL)
as needed heavy cream or milk (if needed to think cream cheese more - see note 1)
2 packages Jello (4 serving size)
1-1/2 cups boiling water
1 cup cold water and enough ice to make 2-1/2 cups.
Place the room temperature cream cheese spread in a bowl. Add the granulated sugar. Mix well sugar is dissolved.
Add the instant pudding mix and the rum extract. Mix until the pudding is dissolved and starting to set.
Prepare you pan. I used a half sheet baking pan lined with a piece of parchment paper and a pan extender so I could life it off for a beautiful presentation. If you do not have this set up, just use a 9x13-inch glass pan or a baking pan.
Cover the bottom with Leibniz Butter Cookies (Keebler buttery club crackers, graham crackers, butter cookies, etc), Sprinkle the butter cookies with some water to help moisten.
Spread the cheesecake mixture over the butter cookies and level.
Top with a layer of butter cookies. Sprinkle with water.
Freeze for 10 to 15 minutes while you prepare the Gelatin,
Place the gelatin packages into a mixing bowl.
Add 1-1/2 cups boiling water. Stir until the gelatin has dissolved, about 2 minutes.
Mix 1 cup cold water and ice cubes to make 2-1/2 cups. Add to the gelatin. Mix until slightly thickened. Remove remaining ice. Continue with Assembly.
Remove the cheesecake layer from the freezer.
Ladle the gelatin over the crackers.
Once all gelatin has been added, refrigerate until firm. At least 4 hours,
Cut with a hot knife.
Serve,
Note 1 - Homemade spreadable cream cheese can be made by mixing regular brick style cream cheese (the foil rectangles) with 2 to 4 tablespoons of cream or milk foe each 8 ounce package of cream cheese. Use more or less until you reach the consistence you desire.
Recipe by
Desserts-101.com
at /how-to-make-jello-cheesecake-no-bake/