Zebra Fondant 18 Layer Cake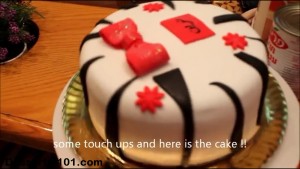 Recipe type:
Fondany Layer Cake
white fondant
black fondant
powdered sugar
rolling pin
fondant mat
water
paint brush
knife/pizza cutter
scissors
cake boards
tape
Having all ingredient ready is a big time saver.
On the cake board you will be building the cake (a plain board works great, it does not have to be foil coated), place a dab of icing, then a layer of vanilla cake. Moisten the cake with simple syrup and top with chocolate whipped cream.
Repeat with another vanilla layer, simple syrup and vanilla Swiss buttercream.
Add a chocolate layer, simple syrup and chocolate whipped cream
Keep repeating layers 2 vanilla and then 1 chocolate layer until all cake layers are used up. I like filling every other layer with chocolate whipped cream and the other layers with vanilla Swiss buttercream.
Once all layer have been assembled, crumb ice cake with chocolate whipped cream. Once smooth place the cake in the freezer for 10-15 minutes to set up firm while you roll out the fondant,
Remove the cake from the freezer, add the fondant on top. Smooth the top and sides. Trim excess fondant as close to the cake as you can. Cut the cake board as close to the cake as you can. Set aside.
Get the serving cake board/platter and place a piece of tape on the board. Place fondant covered cake on top.
Now roll out the black fondant and cut unto random stripes.
Wet the back side of the black fondant stripes with water (which will act like glue) and position on the fondant covered cake.
Add more decorations to complete the cake.
Enjoy.
Recipe by
Desserts-101.com
at /zebra-fondant-layer-cake-tutorial/