How To Make Easy Vegan Cookies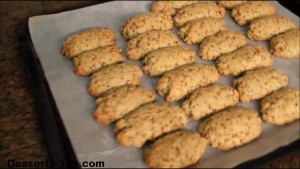 2 cups plus 2 tablespoons all-purpose flour (250)
2-1/4 cups self rising flour (250g)
1-1/4 teaspoons baking powder (5g)
1 cup granulated sugar (200g)
⅔ cup toasted sesame seeds (100g)
¼ cup anise seeds (about ⅞ ounce)(25g)
1 cup canola oil (vegetable) (237mL)
½ cup olive oil (120mL)
½ cup of warm water (120mL)
Measure out all ingredients
Toast sesame seeds, if needed, by placing in a dry pan and toasting on low heat until fragrant and lightly toasted.
In a large mixing bowl, add the flours, baking powder, sugar, anise seeds and sesame seeds. Mix well.
Add the canola oil, olive oil and water. Mix with a wooden spoon until a dough forms, changing to mixing with you hands when you can no longer mix with the spoon.
To form the cookies, grab a piece of dough about the size of a walnut and roll like a meatball then shape into a cigar. Place the cookie on a wire mesh sieve (or screen) and flatten with 3 fingers then pull toward you to start the cooking rolling up. When you can no longer roll the cookie, lift the front end over and continue to roll into a pipe with a hallow center. Place on a parchment paper lined baking sheet.
Bake in a preheated 350ºF/177ºF oven for 20-30 minutes or until the edges and sides start to lightly brown.
Cool before eating. Store in an air tight container.
Recipe by
Desserts-101.com
at https://desserts-101.com/how-to-make-easy-vegan-cookies/