Chocolate Log Cookie Recipe (No-Bake Cookie)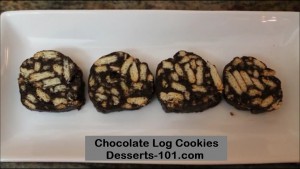 Recipe type:
Non-bake Cookie
1 stick margarine (4 ounces or 100g)
¾ cup granulated sugar (150g)
1 cup whole milk
¼ cup unsweetened cocoa powder (21g)
1 pound chopped Leibniz butter cookies (450g) (petite buiere) (store bought or even graham crackers will work) broken up into small pieces.
Measure out your ingredients.
Break up you butter cookies into small pieces. I just broken up the cookies with my hands, but you can rough chop with a knife. You do not want the pieces very small.
To a large pot, add the margarine, sugar and milk. Place on high heat and stir with a wooden spoon to mix.
Once the margarine melts, add in the cocoa powder and continue stirring and heating until the cocoa powder creates a smooth sauce. Remove from heat.
Add in the chopped butter cookies and stir well to coat and mix. This may take several minutes until you get a uniform mixture.
Cut a piece of plastic wrap about 2 feet long and lay out on the table. Place a handful of cookie mixture on the wrap and form into a rough log.
Wrap the cookie log with the plastic wrap, reshaping the log as you go. Twist the wrap tight as show in the video and tie both ends.
Allow to cool for 30 minutes on the counter.
Refrigerate cookies until set. At least one hour.
Serving -Slice logs into cookies at serving time. Keep logs wrapped tightly in plastic wrap to prevent drying out.
Recipe by
Desserts-101.com
at /how-to-make-a-chocolate-log-cookie-nobake-cookie/